The Eco-Cap is designed to reduce the amount of water that is currently flushed down the drain. For every 16 urinals that use the Eco-Cap, the water saved is the equivalent of one Olympic sized swimming pool every year1!
Enquire for pricing or buy in our shop here.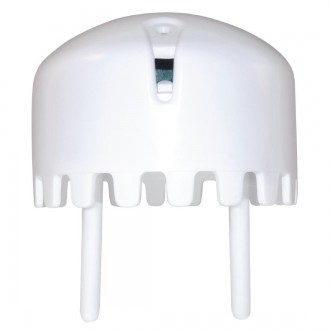 Simple and quick to install, fits standard waste outlets

Can reduce the number of flushes required to only 2 per day!

Emits a fresh, citrus fragrance and reduces malodours and bacteria

Reduces blockages by preventing gum, paper etc. from entering the washroom pipework

Replaced every 30 days, the Eco-Cap is fully recyclable

Available in boxes of 25
The revolutionary Eco Cap is designed to retro-fit 100% of all existing flushable urinals. Requiring only 2 flushes per day, the Cap will substantially reduce the vast amounts of fresh drinking water flushed down the drain by your customers.
It's perfect for all publicly used washroom facilities such as Sports Venues, Pubs & Restaurants, Shopping Centres, Public Transport (Rail/Bus/Tube Stations and Airports) & Hospitals.
It contains friendly (non-pathogen) bacteria. These harmless, naturally occurring micro-organisms remove fat, urine and solids that build up in the urinal traps and pipework, drastically reducing malodour problems and blockages – and consumer complaints!
Unlike urinal sleeves and other similar products, the Eco-Cap is easy to install and remove – no tools are required. Simply position The Cap by inserting the legs into the existing waste outlet and pushing downwards.
In addition to saving water, The Eco Cap has been designed to stop debris such as chewing gum and tissue paper from entering and blocking the urinal's pipework, thus drastically reducing the need for maintenance.
The Eco Cap, replaced on a monthly basis, will allow your customers to achieve substantial savings on water usage by reducing the need for constant flushing, thereby saving water, C02 and money. Large organizations can meet their C02 saving targets simply by installing the Eco-Cap throughout their facilities.
The Eco Cap can be sold to your clients as a serviced item or as a consumable, making it suitable for a variety of market sectors, and a flexible addition to your existing portfolio.
1The figures used for this illustration are based on a urinal flushing 5litres of water every 15 mins over a 24hr period